A Connected World
OnePIN has a decade of experience connecting people to the things that matter most.  Its simple – OnePIN's SIMplicity Cloud connects the world.   With nearly one quarter of a billion connected people, OnePIN has demonstrated its innovation excellence within the mobile marketplace.  OnePIN's unique platform of services targeted at mobile operators increases messaging and voice calls – the heart of a mobile operator's profitability center.  In addition, SIMplicity Cloud services drive data usage, enable downloads of new applications, boost top-ups and reduce churn, and allow mobile operators to play a lucrative role in the mobile advertising ecosystem.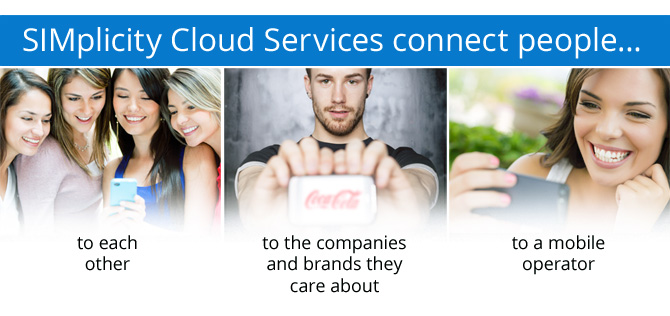 The cloud-based service platform offers the following distinct services:
Realizing that relationships between people and entities span multiple countries, mobile network operators, and even handsets, OnePIN has developed patented technologies on a unique mobile platform that enables the service to work on every handset and network.
OnePIN's SIMplicity Cloud services can be made available to all subscribers within both prepaid and post-paid segments.  Subscribers pay to use CallerXchange, MsgXpress and BoosterX.  Enterprises (Brands) pay for AdXecutive, SurveyXpert, and MaXapp; and these services are offered to subscribers for free.
OnePIN's CallerXchange® service transforms mobile phonebooks into dynamic social address books subscribers use to stay in touch with their growing social network of friends, family and business associates. CallerXchange is a person-to-person contact exchange service that connects people and enhances social networks, enabling subscribers to share their mobile, home and work numbers, e-mail address, blogs, social networking sites, etc. with just one click.
MsgXpress™ is a missed call "quick message" service for subscribers.  Subscribers can quickly send a personalized message with 1-click after missed calls. With MsgXpress, Operators generate premium VAS revenue with each message, and the service also increases operator's "return call" volume and revenue.  Subscribers pay an out-of-bundle SMS price per message.
The SurveyXpert™, MaXapp™, and AdXecutive™ services provide a unique advertising opportunity for Enterprises where Mobile Operators can offer subscribers a convenient way to interface with Brands.
BoosterX™ is a top-up and up-sell service for Mobile Operators.  Subscribers easily upgrade their voice or data package using a simple user interface prior to their plans expiring.  Operators increase their revenue by upgrading subscribers to higher capacity data plans and by eliminating down-time between data plan refills.  This service is offered for free to subscribers.
NetMetriX™ is a mobile network analytics service for Mobile Operators. The service measures and geographically maps: network quality & coverage, roaming, and handset distribution. Analysis can be performed across the network as well as to an individual subscriber to enhance the mobile operator's customer service capabilities.
Mobile operator customers include Vodafone, MTN, MTS, Etisalat, NetOne, Baikalwestcom, Globacom, Orange and Cable & Wireless.
Headquartered in Boston, Massachusetts, OnePIN is venture capital funded and has raised funds from FA Technology Ventures, Egan-Managed Capital, Greycroft Partners and Stage 1 Ventures.